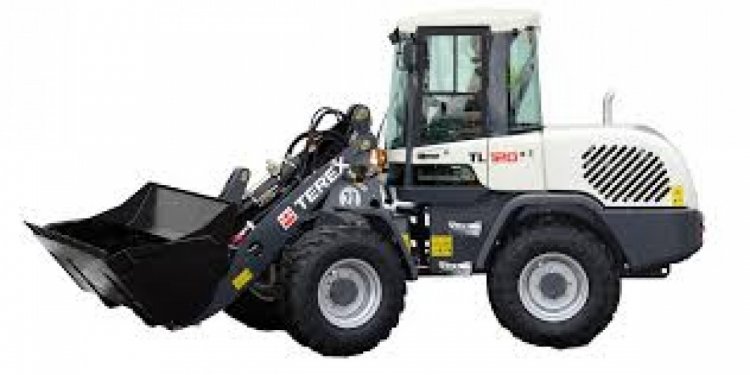 Earth Movers Equipment
K-Tec's Eco-Friendly Earthmovers in Poland - October 2016 Newsletter
K-Tec scrapers are an integral piece of Eco-friendly earthmoving machinery on this green energy wind farm construction project in Gawłowice, Poland...
Read More
Introducing The K-Tec 2822 FX Land Leveler. The XL Series land levelers are designed for large earth moving projects such as...
Read More
The Solution: K-Tec Scraper Loading Techniques - August 2016 Newsletter
When to Self, Push or Top Load a Scraper: Are you having trouble deciding whether to self-load, push load or top load a scraper? In this video we're going to break down each earthmoving technique and...
Read More
Full Range of K-Tec Equipment on One Jobsite - July 2016 Newsletter
An impressive string of K-Tec Equipment on the jobsite: This Gravel Pit Project located in North Dakota involved stripping approximately 20 acres...
Read More
Scraper Selection: Direct Mount or ADT? - June 2016 Newsletter
Scraper Selection: Direct Mount or ADT? This informational video will help contractors determine which scraper setup can move the material most...
Read More
K-Tec is preparing for a larger and innovative CONEXPO tradeshow experience. Add K-Tec's Booth #G 2816 to your tradeshow planning map!
Read More
Scrapers Carry the Day in Massive Houston Plant Construction
Faced with the need to move nearly two million cubic yards of dirt at a jobsite just outside of Houston, a pair of contractors considered the different technologies available to them and ultimately brought to bear an armada of K-Tec 1233 scrapers pulled by Case 580 tractors. Despite some Texas-sized weather delays resulting in horrid ground conditions, they completed the job on time and without issue. The right job, the right tools, and definitely the right results...
Read More
K-Tec Targets Mass Market with new 1228ADT scraper
K-Tec Earthmovers announce 1228ADT scraper model to move a heaped capacity of 28 cubic yards with the popular 30-Ton Articulated Dump Trucks.
Read More
Earthmoving TLC: Scraper Maintenance
Servicing and maintaining your earthmoving scraper is a necessary, yet unappealing activity. Contractors want to be out in the cut moving dirt, instead of doing a daily inspection while holding a grease gun. It is critical to protect your equipment investment, and take pride of ownership of your scraper machinery. Become dedicated in completing a daily walk around and performing routine scheduled maintenance tasks.
Read More
Pusher Block Innovation
Turn your horsepower tractor into a high-speed dozer to push K-Tec Scrapers.
Read More
K-Tec Expands into Land Leveler Market
K-Tec Earthmovers introduce a line of premium, heavy-duty land leveler box scrapers for the construction, agriculture, and landscaping industries.
Read More
K-Tec Year-End Demonstration Equipment For Sale
Please contact us for purchase or rental of pre-owned equipment including: Motor Grader, Crawler Dozer, Articulated Dump Truck, Articulated Scraper Hauler, Agriculture Tractors, and K-Tec Scrapers.
Read More
K-Tec Enhances the World's Largest Construction Pull Scraper
K-Tec Earthmovers announces the 1263 ADT scraper to move a 63 cubic yard mountain of dirt in a single pass.
Read More
Crushing the Competition with Efficient Scraper Equipment
A world leader in the aggregate industry with a rock-solid foundation of heritage, identified the need to introduce cutting edge equipment in the efficient transportation of quarried limestone. K-Tec's 1243ADT scraper was a logical fit with TCS as the units can transport, dump, and level the stone all by themselves. Additionally, the large capacity of the scraper would mean less trips around the quarry. These efficiencies would surely save the company considerable costs on labor, fuel, and equipment maintenance expenses.
Read More
International Earthmoving Emphasis
K-Tec Earthmovers Inc. have hired Allan Friesen for International Business Development to add to the team of K-Tec Product Specialists, who are currently on a tour of Latin America. Read More
Brisbane, Australia Airport's New Runway Project
K-Tec's scrapers are an integral piece of earthmoving equipment in developing a 3.3km long, 60m wide runway project. 17 million cubic yards of sand is to be moved between 2014 and 2020 completion date.
Read More
K-Tec Doubles Up Capacity with New Train Earthmoving Scrapers
K-Tec Earthmovers announces 1233ADT/ADT Train scrapers to move a tandem heaped capacity of 72 cubic yards with a single Articulated Dump Truck.
Read More
Redhead Equipment Enhances Earthmoving Product Line
Redhead Equipment announces agreement to be authorized dealer of K-Tec Scrapers in Saskatchewan
Read More
Rental Focus on Weapons Range
Based out of Austin, TX, NEU Security Services specializes in projects at defense sites and federal buildings around the country. The project at Range 111 at Fort Carson was more earthwork than what they typically run into on most of their projects...With thousands of yards of material to move and miles of trenches to excavate, having a fleet of equipment that's dependable and efficient to run is critical to the success of the project... NEU currently has a pair of Terex 40-ton haul trucks pulling 33yd K-Tec scrapers doing the bulk of the cut and backfill work on the project. "This is the first time I've used a haul truck/scraper rig for moving fill, " said Hank. "I've got to say that it's been working really well. The advantages over running a straight haul truck makes it an attractive way to cut and fill. They self-load and a good operator can manage the spoil without needing a dozer to level the dump area. You can move a lot of material in a day with these rigs."
Read More
K-Tec 1233ADT & Caterpillar 740 ADT Complete Setup For Sale
This efficient scraper solution was used exclusively by K-Tec Earthmovers for Research & Development and Demonstration purposes. It is complete and immediately ready to move dirt efficiently, while reaching haul road speeds of 36mph. The 40 Ton Caterpillar ADT has Turbo ECM with an excess of 600+HP. The 1233ADT has a heaped capacity of 36 Cubic Yards, while having 26.5 x R25 tires. The units are connected with a scraper hitch system including hydraulic filtration.
Read More
Australian Premiere of ADT/Scraper Combo Being Released in Toowoomba, QLD
Announcing the Australian Premiere of efficient ADT/Scraper earthmoving equipment. Tenkate Plant Hire's Volvo 40-Ton ADT matched to a K-Tec 1233ADT scraper will be showcased at the Surat Basin Energy & Mining Expo, June 18-19 at Site P3105 in Toowoomba, QLD.
Read More
Groundbreaking Innovation in Scraper Manufacturing
"K-Tec's core values are what have contributed to its ongoing success... We do what we say we're going to do. We've had many repeat customers, good testimonials of our after-sales services and our warranty policies." "Our Goal is to keep doing what we're doing and grow as it is feasible. Our aim is not to be the largest company, but to be the best in scraper manufacturing."
Read More
Special Challenges Call For Special Solutions
A CUSTOMER'S SUCCESS STORY - "Productivity on site has increased as the machines never need to stop. Our operators work 10 hour shifts and the Volvo haulers clock about 2, 000 hours on average a year." Scott Drury, President, Bloomsdale Excavating
Read More
K-Tec's NEW 43 Cu.Yd. Scraper Model Revealed at ConExpo
Inspect The Unexpected: Self-Loading Earthmoving Efficiency.
Read More
K-Tec Announces Strongco as Authorized Scraper Dealer
K-Tec are the Only Scrapers Approved, Certified and Supported by Volvo CE
Read More
Share this article
Related Posts