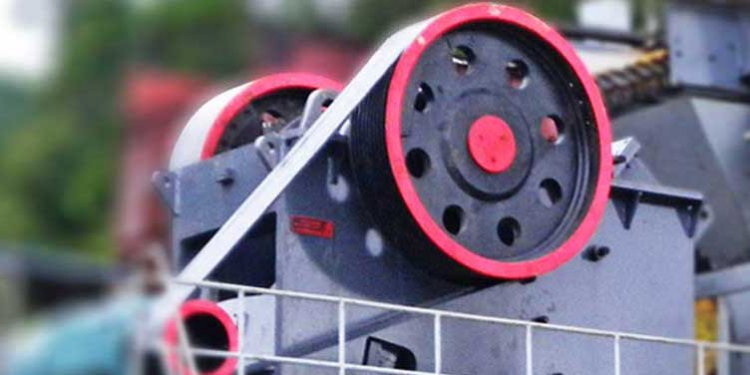 Crusher Operation
Mobile crushers are used in a wide range of industries, including quarrying, ore processing and recycling of demolition waste. This guidance is for all those with responsibilities for the operation of mobile crushers, including contract managers, supervisory staff and operators of these machines. It covers the safe operation of the mobile crushing operation and includes guidance on clearing blocked crushers.
This guidance cannot cover every risk and is not comprehensive. It does not attempt to detail individual machinery safety concerns, but will only highlight those key matters of concern.
The risks associated with your particular operation, and the methods of reducing those risks, should be revealed during your risk assessment.
Key risks
Machinery guarding Clearing Blocked or Stalled Crushers Slips and trips Transport – coming in to contact with excavators loading the crusher
Mobile crushers are versatile pieces of equipment with many uses. A properly planned operation will be efficient, safe and productive. A poorly planned operation will be unproductive, dangerous and inefficient.
These machines can, and have, killed.
Typical layouts
Mobile crushers will normally be fed from loading shovels, backhoe excavators or from other processing machinery (e.g. sizer/separator, elevating conveyor, etc).
In its simplest form it will be a standalone machine, fed directly with the material to be crushed and discharging to a stockpile ( see Fig 1 ).
If the material to be crushed is reinforced concrete, then generally a magnetic separator will often be positioned over the discharge conveyor to remove the metal and prevent it from contaminating the production run material.
Fig. 1 Typical mobile stone crusher
Feeding
If the mobile crusher is to be fed directly by a loading shovel or excavator, then:
Excavator standing pads should be suitable (stable) and should be high enough for the operator to be able to monitor the feed hopper from the cab. Safe access to the excavator must be provided for the operator ( see Fig 2 ). Where wheeled loading shovels are used, then the ramp should be wide enough to allow for adequate edge protection (min 1.5m high) on either side of the ramp as well as for the travel of the machine. The maximum gradient of the ramp should be within the capacity of the loader (a maximum gradient of 1:10 is recommended) The last few metres of the ramp should be level so that the machine is not discharging uphill, thus enabling operators to more easily monitor the feed. The loading shovel will also be more stable. Ensure pedestrians and obstructions are excluded from the bucket operating arc.
If the crusher is to be fed directly by a conveyor:
All dangerous parts of machinery should be suitably guarded. Failure to replace guards (on crushers and conveyors) after cleaning or maintenance work is a major cause of injury on these machines.
Fig. 2 Excavator feeding mobile stone crusher
Causes
Causes of crusher blockages can be grouped under two main headings:
Stalling due to: Electrical or mechanical failure Material jammed in the chamber causing an overload Overfeeding material Entry of tramp metal or wood Accumulation of material in the crash box Accumulation of fine material in the crusher discharge chute Bridging due to: Oversize feed material Excessive clay or other fines in the crushing cavity preventing small material passing through the crusher A foreign body in the crusher feed or discharge chamber obstructing the feed material
Prevention
Working on the premise that prevention is better than cure, every effort should be made to prevent oversize material or tramp metal entering into the crusher feed hopper by:
Designing any quarry blast to achieve optimum rock fragmentation (quarrying) Reducing oversize material by drop ball or hydraulic hammer or other means (demolition/construction) Training and instructing the loader driver not to load oversize material Sizing bars on crusher feeds Following the manufacturer's recommendations on the rate, presentation of feed and crusher settings Instituting a programme of good housekeeping to prevent scrap steel entering into shovel buckets Ensuring the size of buckets are appropriate to the capacity of the crusher Regular inspection of metal parts (e.g. bucket teeth, dumper wear plates and drilling components etc) to ensure they are unlikely to break off and enter the crusher feed The strategic placing of electrical magnets and/or the installation of metal detectors to prevent tramp metal from entering the crusher The use of level indicators for feed control Maintenance of drive systems Removal and adequate cleaning of the discharge chute
A properly designed mobile crushing operation should not need any person to be present on the crusher access platform during normal crushing operations.
Being on the access platform during normal operation presents the following risks:
Struck by objects ejected from the crusher, such as bits of stone or metal. The operation of the crusher catches being struck by any reinforcing bar as it. Being pulled into the crushing chamber when attempting to pull out contaminants (e.g. reinforcing bar). Struck by the loader bucket if the access platform is within the working radius of the loading machine (for 360 degree excavators). Falling if adequate guardrails and access arrangements are not provided. Noise. Process noise at this level can cause deafness and adequate hearing protection is required. Dust, especially in the case of crushing concrete or bricks or any other high silica content material. Breathing silica dust can cause serious respiratory diseases. HSE Guidance on Silica. Whole body vibration. Anyone on the platform would be subjected to constant low frequency vibration.
It may be necessary for a person equipped with the appropriate PPE (e.g. ear defenders, dust mask, eye protection, hard hat, protective footwear, high visibility outer garment) to spend a few minutes setting the feed speed initially if there is no remote facility. The feed should then be controlled from the machine feeding the crusher by varying the loading rate into the feed hopper.
Action when a crusher becomes blocked
Have a nominated person to supervise the activity and call for assistance as necessary Stop the feed at the earliest opportunity Remove excess material by mechanical means where possible before the cause of the blockage can be dealt within In some cases, however, an amount of removal by hand will be involved and when this occurs the crusher and associated plant must be stopped and isolated Manual removal should only be carried out by suitably trained and competent persons
Share this article
Related Posts