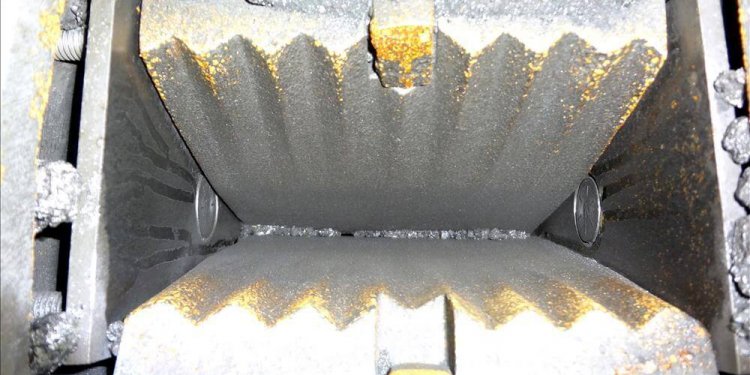 Crusher jaw plates
Certain profile types decrease or increase the crusher's hourly production. So, for the correct choice, it is necessary to have a good knowledge of crushing and to observe what happens inside the crusher's chamber (very lamellar material, excessive humidity, fines, need of small opening, etc).
Jaw plates - what to do?
When the wearing of the jaw plates is severe, it is a known fact that crusher performance is not ideal, because the empty spaces between the teeth are reduced, encagement happens frequently, the crushing angle is changed or, in other words, production is affected.
This means that, a cost-benefit analysis for changing the worn jaw plate should be seriously considered, because at a certain point, the difference in production justifies the investment in a new part. We have also observed users crushing even with cracked and perforated jaw plates, without carrying out the correct control and cost x production analysis.
When to rotate the jaw plate?
The ideal situation would be when even wear occurs throughout the jaw plate area, using all the manganese teeth, eliminating the need to execute the "turn", or change production.
This is impossible, however, because there are areas where we cannot avoid more severe wear than in others, mainly because of the crushing movement geometry, such as in the fixed jaw plate lower tip and the central area of the swing jaw plate, so a turn should be carried out to achieve better performance and use. We recommend a double turn, in other words:
Fixed jaw plate – use until wear of about 50% occurs in the lower area and make the first turn. Make the second turn when wear from 90% to 100% occurs in this new lower area. Conclude using the remaining 50% of the life cycle of this extremity.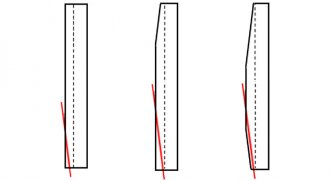 From left to right: initial (50%), first turn (90-100%) and second turn (final).
Swing jaw plate – the same procedure is applied to the swing jaw plate, because although the wear occurs in the central area, it rarely occurs in the exact middle of the jaw plate.
Share this article
Related Posts