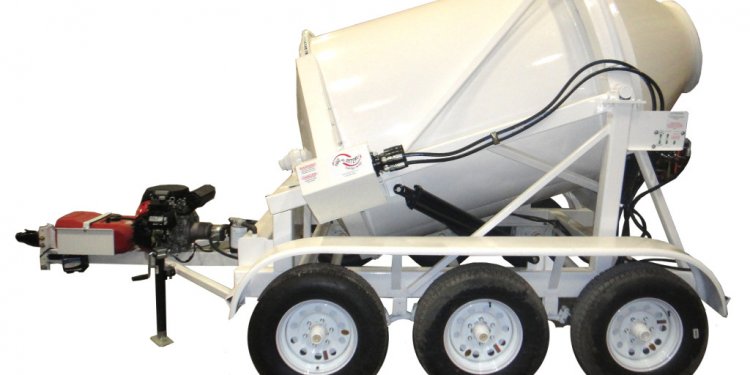 Portable Concrete Mixers

The 1.75-yard portable concrete mixer is the big brother to the standard 1-yard Cart-Away mixing trailer.
A recent survey concluded that many mixing trailer customers use more than 1-yard of concrete per project. The MixKing is the perfect tool for these projects! This 1.75-yard portable concrete mixer will save you money by reducing the trips from your loading point to the job site! It is bigger, but still can be pulled behind a contractor pick-up truck.
The MixKing™ is a 10, 000 GVW trailer.
The MixKing™ can carry 1 ¾ Yards.
The MixKing™ uses a positive-lock drum cover.
The MixKing™ has 6 ply radial tires.
The MixKing™ has optional on-board water.
The MixKing™ can be pulled by Full-Size Pick-ups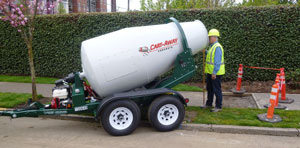 Both use the industry leading GearSaver™ knob for increased gearbox life. Both use the TandemFlex™ fenders to save on dented fenders. Both use the bullet-proof Honda 11hp engine and a hydraulic systems to work all the functions.
Both use powdercoating to protect the finish of the drum. The 1.75-yard portable concrete mixer uses a stronger pentle hitch system and the 1-yard trailer uses a 2" ball hitch.
Both trailers are a great investment and have the backing of the world's largest producer of trailer-based concrete equipment, Cart-Away Concrete Systems, Inc.
WATCH A SHORT MIXER ASSEMBLY VIDEO
Specifications:
Hydraulic surge brakes (electric brake option)
Load range D ST225/75 15" radial tires 2540# rating
Empty weight 2, 700 lbs
10, 000 GVWR or 1¾ cubic yard capacity
Precision rotating drum
11 hp Honda Engine
Auburn Heavy Duty Gearbox
Ross hydraulic motor w/crossport relief
4 wheel free-backing brakes
Vari-height adjustable tongue
Standard pintel ring
GearSaver Knob for gearbox safety
Dimensions 15'4" L x 5'7" W x 6'10" H
Tandem 5200lb. axles
D.O.T. Approved lights
Uni-body hydraulic valve
Tubular A36 structural steel frame
See also:
Share this article
Related Posts