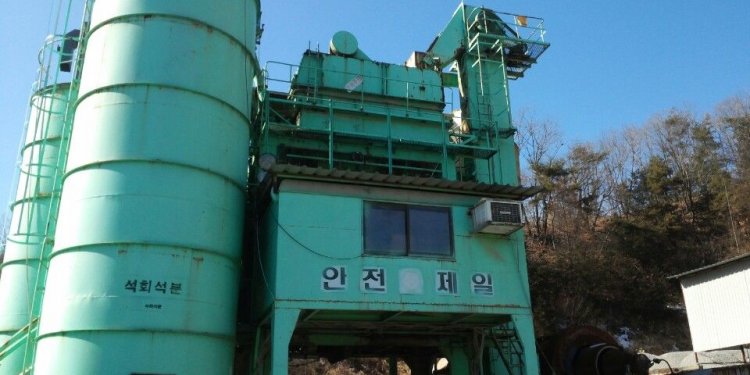 Speco Asphalt mixing plant
Tuning the burner should be a top plant maintenance priority
from Asphalt Contractor Magazine
Keeping your plant's burner tuned should always be a top priority. Letting it go untuned can cause a host of problems, not to mention cost you money in wasted fuel and the cost of repairs to other plant parts. But you must also make sure that your burner is being tuned properly. The damage that can be caused by an improperly tuned burner is almost as great as that of a totally untuned burner.
Avoid common mistakes
Burner service technicians see a lot of mistakes being made when they're out in the field. In fact, they are often called out to a plant to fix a burner that's been improperly tuned by plant personnel.
One of the most common mistakes I see is people trying to adjust air/fuel mixture by feel, says Brad Garbelman, asphalt training manager at CMI Corp., Oklahoma City. They check it by feel because they saw somebody do it once or something. The actual air/fuel mixture adjustment should only be done by someone who has a gas analyzer so they know where they're going when they make these adjustments.
Garbelman notes that no one can tell what the carbon monoxide and hydrocarbon output of a fire is just by looking inside the drum mixer. Having the improper air/fuel mixture can lead to serious problems, such as fires and even explosions.
Another common mistake is found when personnel begin tuning the burner, or doing routine maintenance on it, and become lost, so to speak. They forget at what point they began, and can't remember which nozzle goes where, or what type of filter belongs on which part.
After I have a technician come in and tune the burner, and it's in tune, quite often you will have a plant superintendent try to touch it up, says Roger Apel of Apel and Associates, Saltsburg, Pa. They don't know where they started from. The mechanical linkage on a burner control can be marked with a magic marker or notched with a file, so at least if they mess the burner up, they can get back to where they started. I see a lot of people that make adjustments and say, Did I turn that counter clockwise, or did I turn that clockwise?
Although unnecessary tuning by an untrained supervisor can cause problems with a burner, the other common mistake is letting burners go too long with no maintenance. Garbelman says that a lot of people wait until the problem is so bad it requires repair, rather than catching the problem when it's still minor. I always use the analogy in my courses that a big job is usually just a little job that's been let go too long, he says. So catch this stuff on a regular basis, check it, make sure everything is doing what it's supposed to before you try to fire it up one morning and find it won't work.
Bob Giannetti Jr., president of Infern-O-Therm Corp., Keyport, N.J., says that he sees a lot of mistakes on asphalt heating systems when it comes to replacing parts. The common mistake I've seen is that they put a fuel oil filter on that's too small so that the filter cannot flow the proper amount of fuel oil that the nozzle requires, says Giannetti. They put the wrong degree nozzle in some that (depending on whatever burner you have, and they all have a recommended certain degree nozzle) it's not the proper spray pattern. That creates carbon or impingement on the side of the fire tube and the refractory and that causes the unit not to burn properly. Giannetti also notes that the electrodes are frequently adjusted improperly.
The problems caused by an untuned or improperly tuned burner vary. An untuned burner is less fuel efficient, and can cost you more in the long run. It can create extra emissions, which can cause a host of problems in itself. Untuned burners can also have a domino effect on other parts of the plant.
An untuned burner can cause blue smoke in the stack, says Apel. It can put fuel onto the aggregates. And, of course, it can coat the filter bags in the bag house with oil or hydrocarbon, and that leads to poor performance of the bag house and presents a potential for a fire.
When it's time to tune, do it right
Now that you know what not to do, and the consequences of an untuned burner, the next step is knowing what to do to keep the burner up and running. It's best to tune the burner once a year, either right before the paving season begins or during a slow period in the season. Giannetti sends his technicians out approximately three to six weeks before the start of the season to service and clean the burners, and provide any preventive maintenance needed. Some states require by law that the producer have a qualified burner technician inspect and tune the burner once a year.
We look at our burners every spring, at the beginning of the season, because the plant isn't being pushed, says Apel. Over here in Pennsylvania, we're shut down for the winter, so it's a good time to do it because the burner sat idle all winter. There could be birds and wasps and everything else in there along with the wear and tear we put on it in the preceding season.
When it comes time to tune the burner, it's imperative, for the safety of your employees and the health of your plant, to have a qualified person do the job. There are many steps involved, and it requires the proper equipment. Apel and Garbelman both note the need for a gas or combustion analyzer to do the job correctly. Each burner is different, so plant operators who do the tuning should have the proper training, whether it be from the burner manufacturer, or another professional source. Many manufacturers offer training schools for operators using their burners.
There is a lot of generic training available, says Garbelman. There are various training institutes or organizations that deal not with any specific plant type but with asphalt plants in general. There are a lot of resources out there that the contractors can take advantage of to make sure these people know how to maintain and how to set these burners up correctly, or make sure that they stay set up correctly.
There are many steps to cleaning a burner. The order they're done in is less important than making sure that everything gets done.
Probably the initial steps would be mechanical evaluation of the linkage and the drives on the burner, says Apel. Number two, you'd want to look at the wear on the internals & the nozzle, the spinner and the other internal components on the burner. Number three, you'd want to check fuel consumption, and number four you'd want to check the resulting products of combustion, such as nitrogen oxide, sulfur oxide, carbon monoxide and volatile organic compounds (VOCs).
Giannetti suggests changing the fuel oil filter and the nozzle, then changing and adjusting the ignition electrodes. He also says it's important to check the fuel pump gauge to make sure it's pumping at the steady recommended pressure.
You also have to make that there is no pulsation in the fuel pump pressure gauge and you must check the fuel oil pump for leaking seals. A properly functioning fuel oil pump is vital in burner operation and efficiency, adds Giannetti. There are two common items that cause burners to run erratically, a small screen at the end of the fuel oil nozzle should be changed when dirty and then there is a screen inside the fuel oil pump that should be cleaned periodically. Each year, before start-up of the plant, usually in the early spring, you should check to make sure that the combustion liners inside your fire tube are in good shape and not breaking apart.
Share this article
Related Posts