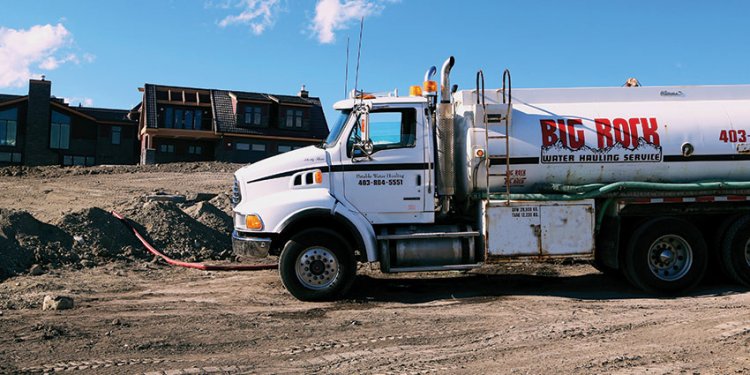 Potable Water Tank Rentals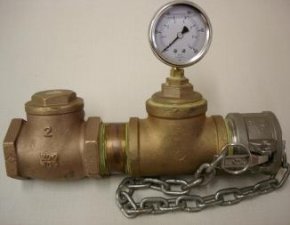 Linebacker...Temporary/Emergency back-up water line service
(We are your back-up when there is a problem with your primary source)
Whether it is a water main break, municipal boil water order, a planned well maintenance project, a water quality issue, or a natural disaster "linebacker" will keep your facility up and running during a water emergency. You have made provisions for back-up power with an on site generator, but what about a water emergency?
If it is time to make provisions for a back-up water supply... you have come to the right place!
D.T.W. Connection
3000 Gallon Linebacker System Supplying building through D.T.W. Connection
The first problem we encounter when we receive a call for emergency water service is how to introduce the water into the facility. Plumbing systems, by design, are a closed system and most of the time do not have any place for us to connect a temporary water supply line. Therefore it is critical to prepare ahead and install a D.T.W. (Dalton temporary water) connection .This allows us to introduce potable water into your facility during a water emergency. We recommend installing the D.T.W. as a tee at the main water line point of entry to supply your entire water system so all automatic systems will function as designed.
Three Things to consider when making contingency plans for back-up water service
How long can your operation survive without water.
What are the critical control points in your operation concerning water. (Boilers, Cooling towers, process water)
What is the average daily usage for you facility?
9000 gallon linebacker system capable of providing temporary potable water service for industrial buildings, hospitals, schools or special events.
The heart and soul of the "Linebacker" system is the automated pumping, filtration and disinfection system contained inside one of our self contained mobile water supply trailers. The mobile trailers are 32' long 8' wide and 13' high, are insulated, climate controlled, and equipped with an on board generator. Each system consists of (2) 1500 gallon stainless steel potable water tanks with fully automated multi stage pump (45gpm@ 70psi), 1 micron absolute final filtration and ultra violet light sterilization.
DETERMINE DAILY USAGE
INSTALL D.T.W. FITTING
CHOOSE A LINEBACKER PLAN
SET UP CONTACT INFORMATION
INFORM RELEVANT AGENCIES OF PLAN
CUSTOM SOLUTIONS
We can modify our basic system to meet any specific flow or pressure requirements including pump heads to 300 feet
Flexible solutions for any water emergency
Plan A: Linebacker on-site - With Linebacker on-site a mobile trailer is permanently installed at your facility, or designed to fit within your facility, connected to your power system and back-up generator as well as your web server for on line monitoring. In the event of a water emergency, your facilities personell would close the main line supply valve and turn on the linebacker system. A water tanker would be dispatched from our plant to re-fill the system upon notification of your water emergency.
Plan B: Linebacker in coverage - With linebacker in coverage a mobile trailer is on stand-by at our facility. Upon notification of your water emergency we would move the trailer to your facility "plug in" to your power system, (or use the on board generator) and connect to the D.T.W. fitting. A water tanker would accompany the linebacker system to re-fill as needed. On line monitoring is not available with this plan.
Share this article
Related Posts