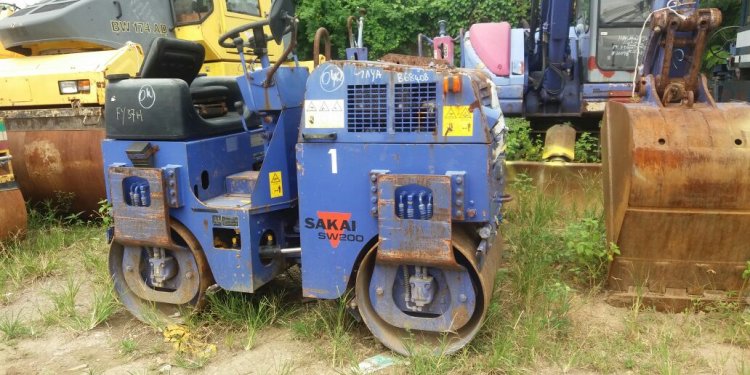 Tandem Roller Sakai
Attendees of World of Asphalt 2016 in March were the first to see Sakai's upgraded SW654-series vibratory tandem rollers. The upgraded rollers now feature a Kubota engine.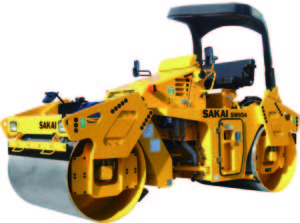 Designed to meet the rigors of daily use in medium-sized to highway-class paving jobs, the Sakai SW654-series rollers are ideal for small to large tonnage jobs requiring oscillation. These include thin lifts, bridge decks, and compaction over existing utilities or near aging structures.
General paving applications for the single eccentric shaft SW654 and SW654B and twin-eccentric shaft SW654ND oscillating rollers include widening of roadways to compaction of shoulders and ramps to parking lots and driveways. The "B" model features a split drum suited best for operating in tight corners without pushing or shoving material.
"Our customers trust these products for Sakai's industry-leading service record, " said Denver Weinstiger, Sakai VP of sales and product support. "Their confidence is backed by our nationwide network of dealer support locations ensuring end users of maximum reliability."
Engine upgrade
All of the 8-speed SW654-series models achieve Tier 4 Final emissions compliance with Kubota's 3.33 L diesel engine rated at 73 bhp.
Cost of operation is further reduced with Sakai's new ECO Compaction Mode (ECM). ECM reduces fuel consumption up to 37 percent.
Weinstiger said, "This upgrade raises the performance bar for all rollers just that much more, coupling the economics of maximum uptime with reduced cost of operation."
Quality mat
Vibratory compaction by the 58-inch-wide, 42-inch-diameter drums is achieved at 3, 000 vpm in low frequency or 4, 000 vpm in high frequency for fast, efficient achievement of specified density targets. High-frequency rear drum dynamic linear pressure ranges from the SW654 roller's 395 PLI to the SW654ND roller's 715 PLI.
Proven Sakai features
All Sakai tandem drum rollers employ cross-mounted drive and vibration motors to evenly apply force to the mat as well as prevent material shoving or pushing during compaction.
The upgrade also retains innovations such as Sakai's unique, custom-designed shock isolators that reduce the transmission of vibration back to the operator and critical machine components; a super-heavy-duty articulating and oscillating center hitch design for superior chassis stability, ground contact and operator control; neutral-activated dynamic hydrostatic braking, one of three separate braking systems found only on Sakai products for maximum operational safety.
# # #
Since its inception in 1918, Sakai has grown to become a global leader in compaction equipment producing more than 4, 000 vibratory compactors each year. Sakai has manufacturing facilities in four countries with sales and product support representing 110 countries worldwide.
Founded in 1976, Sakai America serves its customers through a strong dealer network across North America, supported by its manufacturing facilities and product support headquarters in Adairsville, Georgia. As a result of its dedication to quality, Sakai owns one of the strongest service records across America today.
Sakai America produces and supports high-centrifugal-force vibratory soil compactors and high-frequency vibratory asphalt rollers to the highest standards in the industry.
More information about Sakai America, as well as its complete line of compaction equipment may be found by visiting
Share this article
Related Posts