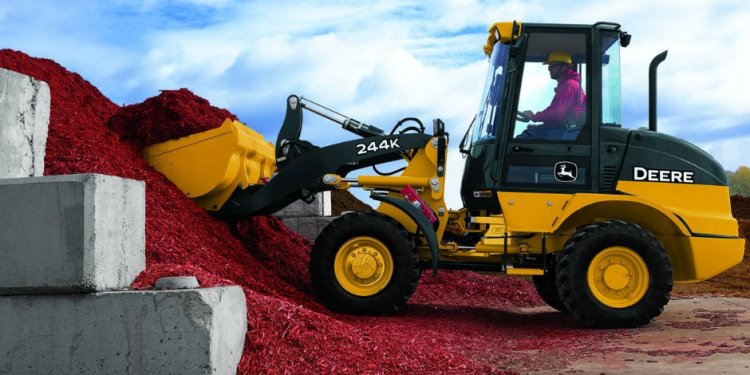 John Deere Articulated Loaders
John Deere's Construction & Forestry Division, previously called the Industrial Equipment Division, was established in the mid-1950s. In late 1957 and early 1958, John Deere appointed its first dealers who were responsible for selling construction equipment exclusively. Today, John Deere construction and forestry products are distributed through a network of more than 600 dealer locations worldwide.
We aspire to distinctively serve customers — those linked to the land — through a great business, a business as great as our products. To achieve this aspiration, our strategy is:
exceptional performance
disciplined growth
aligned teamwork
John Deere construction and forestry equipment is manufactured at a number of factories around the world.
The John Deere Dubuque Works factory was opened in 1947. It stretches over one mile long on 1, 465 acres three miles north of Dubuque, Iowa. The Dubuque Works manufactures crawler dozers, crawler loaders, skid steers, backhoe loaders, forestry track feller bunchers and harvesters, knuckleboom loaders, winches and components for various heavy equipment products. The factory also houses the Dealer Technical Assistance Center (DTAC) and Dealer Marketing Assistance Center (DMAC). DTAC is a hot line that provides technical assistance to John Deere Dealers. DMAC helps dealers answer customer questions about proper machine configuration, special applications, and other operating issues.
The John Deere Davenport Works began production in 1974. Today, the Davenport Works facility manufactures articulated dump trucks, four-wheel drive loaders, motor graders, log skidders and cabs.
Both the Dubuque Works and Davenport Works factories have been registered to the International Organization for Standardization (ISO) standard ISO 9001 by the Quality Management institute in Canada and the Japanese Machinery & Metal Inspection Institute (JMI). This is the highest standard achievable for recognizing a company's quality systems.
With the acquisition of Timberjack in December 1999, the division's product line consists of more than 100 models. Products for worldwide forestry markets are manufactured not only at John Deere Davenport Works. John Deere Forestry Oy in Joensuu, Finland manufactures log forwarders, wheeled harvesters and harvesting heads.
Share this article
Related Posts