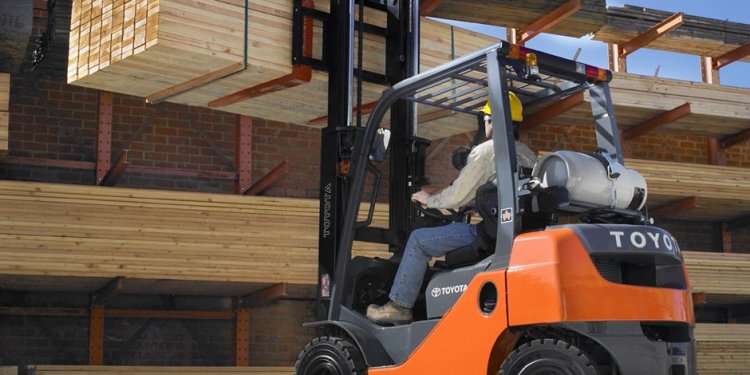 Articulating Forklift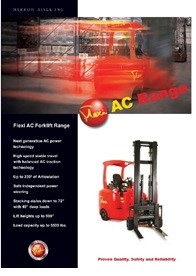 Flexi provides a full AC Powered Range of articulating forklifts to suit most all requirements. This selection allows companies to convert aisle space into usable storage space in order to gain storage capacity without the need to acquire additional warehouse space.
The Flexi AC Range delivers
• Capacities from 2, 900 pounds, to 5, 500 pounds.
• Aisle Width from 6' to 7'
• Lift Heights from 12' to well over 40'
You'll find the full range of Flexi models in the brochures below. To learn more please visit our to reach out to us for further information, or our if you'd like us to contact you.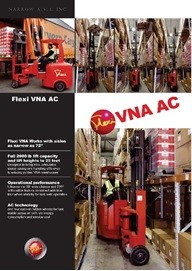 Flexi AC Range of Very Narrow Aisle Forklifts
5 Basic Models
Flexi Model VNA Very Narrow Aisle Forklift
2, 900 pound capacity.
Lift Heights to 300"
72" Aisle
Flexi EURO Model Very Narrow Aisle Forklift
3, 300 pound capacity.
Lift Heights to 323"
78" Aisle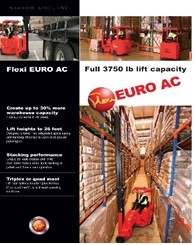 Flexi AC 1200 Model Very Narrow Aisle Forklift
4, 400 pound capacity.
Lift Heights to 374"
78" to 84" Aisles
Flexi HiLOAD 1250 / Flexi HiLOAD 1350 Very Narrow Aisle Forklift
4, 400 pound capacity and 5, 500 pound capacity.
Lift Heights to 415"
84" Aisles
Flexi HiMAX Model Very Narrow Aisle Forklift
Fixed Mast / Tilting Carriage
Lift Heights Over 500"
84" Aisles
Flexi AC StorMAX – Double Deep
Share this article
Related Posts