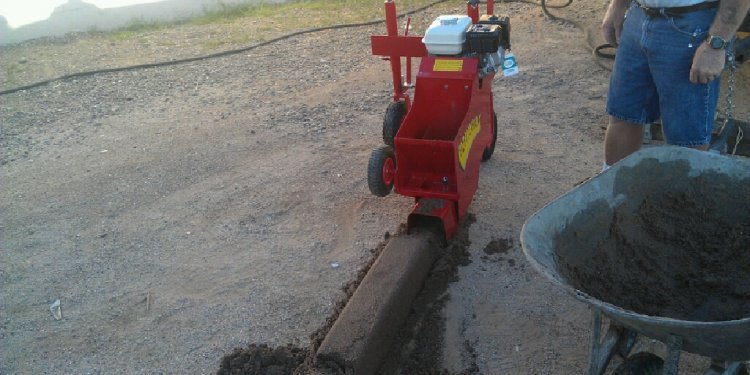 Curbing Machines
Hand built curbs lined the streets of Pompeii and Herculaneum in the first century and of American cities until the invention of curbing machines around 1980. Quarried granite or mined stone were effective but expensive construction materials before concrete became the standard. Ancient Greeks and Italians recognized the benefits of curbs that contemporary technology has refined and improved.
Understanding the Need for Curbing
Curbing machines provide an essential service for transportation planners as well as profitability for contractors who use them. Collecting water and conveying it from crowned pavement to a collection point promotes safe driving and extends the life span of road surfaces. Curbs increase the strength of pavement in significant ways. Their thickness helps maintain the integrity of pavement edges and reduces deflections that vehicle traffic loads generate.
By confining flexible pavement, they improve compaction during the construction process. Enhancing safety for drivers, light reflecting materials on curbs show a clear delineation of pavement edges. In the absence of reflective curbing, authorities typically paint a white strip on the pavement edge. Curbs can endure the effects of snow plows, and they often create collection points for debris that increase the efficiency of street sweepers.
For an economical use of real estate that infrastructure experts recommend, curbs offer advantages that are unavailable in any other way. They make acquisition of large right of way parcels for drainage swales and flat side slopes unnecessary by managing water runoff efficiently. The reduction in dedicated space may amount to as much as 15 percent in some jurisdictions.
Eliminating the need for drainage swales creates a positive effect on property maintenance by reducing the amount of mowing required to keep ditch banks looking trim and well kept. Ditches need less cleaning, and caring for end sections of culverts under driveways requires less time, effort, and expense. Aside from the practical functionality of curbing, it creates an aesthetic effect that enhances the appearance of roads and streets.
Reviewing Types of Curbs
Regional preferences, jurisdictional regulations, and cost of construction can determine the shape of curbs, but most are either mountable or barrier types. Straight types form barriers that resemble the earliest curbs in ancient Greece or Italy, intended to prevent a vehicle from leaving the stone pavement.
Roll curbs, the mountable type, incorporate sloping faces that allow vehicles to cross them slowly without causing damage to tires or wheels. Entrances to driveways that intersect standard curbs require a gentle slope or a reduced height to produce a depressed curb. In new subdivisions where driveways are not established, mountable curbs provide homeowners with optional choices.
Mountable or barrier curbs can have gutters or aprons that form a curb and gutter combination. Sloping a curb can provide a ramp for pedestrian crosswalks or for compliance with the American Disability Act.
Meeting the Need
Curb Roller's owner Seth Ulmer encourages contractors to consider the advantages of providing a necessary service. Describing a growing opportunity, Ulmer said that "most contractors think of curb and gutter as a hassle that is best subbed out to the 'curb crew.' The Curb Roller decreases labor, doubles production, and reduces input costs of every curb job."
He emphasizes that "companies of all sizes will see their curb and gutter work move from a 'necessary evil' to a profitable niche without relying on subcontractors." Considering the financial reward of incorporating curbing into a contracting company's capabilities, he adds that '"they will produce high-quality work faster, leading to a greater profit on every job."
Getting Professional Results
Technology has advanced the development of curbing machines into equipment that functions smoothly, overcoming problems that the earliest models faced. An inadequate amount of material in the hopper, poor compaction, and waste created delays that contemporary equipment avoids.
Creating quality curbs has traditionally required skilled concrete workers who understood the complex requirements of creating smooth corners and uniform slopes. Larry Dewey, president and owner of Curb-Tec, cites his company as unique not only for developing state of the art equipment but for being "the only curb extruder machine manufacturer that began life as a curbing contractor."
Preparing for a Pour
Curb forms need to be clean, straight, and solidly interlocked to maintain support on grade, and the machines need firm support to produce the best results. Ensuring efficient draining into gutters is critical for curb and gutter combination pours. Some contractors prefer to use steel forms for greater stability in tall curbs that meet design specifications.
Wood forms are practical for smaller projects and for curved sections when braces and stakes can support them. A releasing agent facilitates removal of wood forms. Slip formed curbs often have slopes on the front and back, producing greater stability and making placement faster and more efficient.
Concrete trucks can place mix into hoppers of slip form machines, and a timely schedule of delivery ensures placement of the low slump material without delay. It stiffens rapidly, making the discharge of concrete from the delivery trucks coincide with their arrival at the job site an essential aspect of a successful pour.
Finding Uses for Curbing Machines
Applications for concrete curbing machines exist almost everywhere, ranging from highways and medians to parking lots, subdivisions, driveways, landscaping, and home garden projects. Slip form and extruder machines offer huge advances over labor intensive pours that require finishing by hand. Machined curbs are more durable and stronger, and jobs take a fraction of the time of manual work. Slip form machines combine wet mix and vibration while extruders use dry mix and a ramming mechanism for compaction and propulsion.
An auger on extruders compacts concrete and propels it through a mold, producing a uniform curb with high density. Walk-behind extruders can place curbs on a compacted surface or on existing pavement. Vibration in slip form machines agitates the fresh mix, allowing it to fill a mold that confines it into curbs and gutters with a professional finish.
Share this article
Related Posts