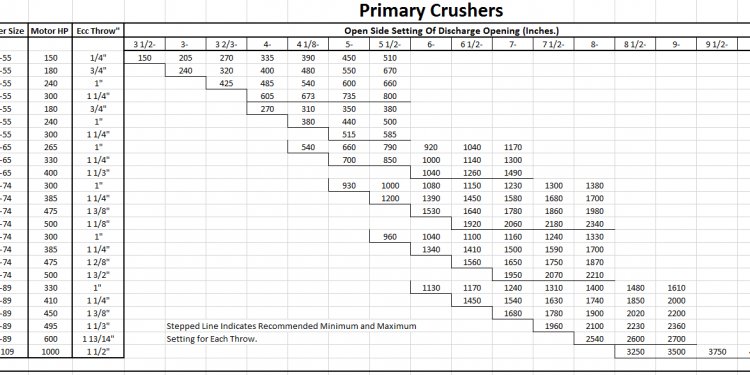 Gyratory Crusher working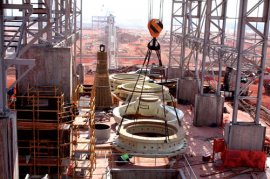 The choice between gyratory and jaw crushers in primary installations is governed by a number of factors, including the required throughput and product size, run-of-mine rock characteristics in terms of size, abrasiveness and stickiness, available installation space and access, feeding system and budgetary considerations—both current and with respect of any potential expansion needs. To generalize, lower throughput, space and cost constraints will favor jaw crushing, while the need to crush more material, or to build in an allowance to do so in the future, tips the balance towards the more capital-costly gyratory.
However, other factors may also come into play in the decision-making process. For example, is a single unit needed to crush all of a mine's output, or are ore variations such that separated crushing provides better feed characteristics for subsequent recovery circuits? Is capacity redundancy needed, where rock properties seem likely to result in high wear rates, and hence the need for units to be taken off line more often for maintenance? And could a required throughput be achieved at lower total capex by using, say, two jaw crushers in parallel rather than a single gyratory?
Whatever the criteria, the decisions have to be right; a primary crusher that does not perform to a mine's requirements can easily threaten the operation's existence. Hence the world's manufacturers continue to invest in developing the technology, making it more reliable, more energy-efficient and more productive.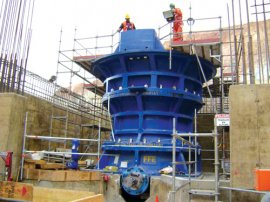 E&MJ asked experts from several suppliers for their views on current trends in primary crushing, and some of the issues surrounding crushing in practice. Respondents were Christian Melgar, product line manager for gyratory crushers and strategic sales at Sandvik; Kevin Graney, product development manager at Metso; Mark Krause, general manager at McLanahan Corp.'s aggregate processing division; and Frank Drescher, head of the mining-crushing technology product group at ThyssenKrupp Industrial Solutions.
Installing a Metso Superior gyratory crusher. Maximizing crusher output while minimizing energy usage will continue to be a key priority over the next decade, the company says.
The Technology Today
E&MJ's first question centered on the significant advances that have taken place in the technology used in these crushers over the past 10–15 years. From Sandvik, Melgar considered that these have included both automation and the design of the spider bearing in gyratory crushers.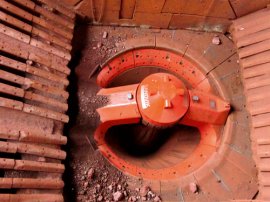 "All Sandvik CG series primary gyratory crushers are now equipped with the ASRi™ automatic setting regulation system, " he said, "while our tank instrumentation monitoring system (TIMS) monitors all auxiliaries in the crusher, thus ensuring optimized lubrication.
"Sandvik primary gyratories also use a unique spherical spider bearing instead of the conventional 'hour-glass' bushing, " he added. "This supports the crushing load from all directions, so extending the mainshaft sleeve life and improving crusher availability by virtually eliminating bushing replacement."
Metso's Graney looked at design aspects, noting that while the size of primary crushers has not changed significantly during the review period, the use of process analysis tools has allowed the dynamics of the crushing action to be pushed further toward the design limits. "Throw, gyration speed and chamber design have been advanced to realize capacity and power increases of up to 15%, within the same crusher envelope, " he pointed out.
Krause addressed jaw-crusher technology. "Over the last 10–15 years, many of the innovations developed for cone crushers have found their way into jaw crushers, " he said. "Hydraulic relief, in lieu of the old toggle plate; hydraulic adjustment; and even variations of stroke and speed have all been employed on jaw crushers—giving better performance and uptime. A crusher's ability to pass uncrushable material and then reset itself provides trouble-free operation, " he added.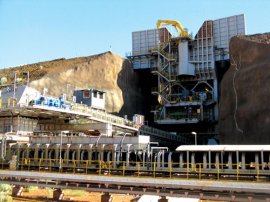 According to Drescher at Thyssen-Krupp, there have been significant advances in performance, maintainability and reliability. "For example in the company's KB gyratory series, the drive power has been increased to 1.2 MW by using a better design for the toothing on the bevel gear, while all TKIS crushers now have a 63-in. feed opening, which is considered best for direct-feed operations.
"Looking at jaw crushers, designs have been improved in a number of ways, and we have developed a hard-rock version of the EB series single toggle jaw crusher that has a bolted, more rigid housing, and larger flywheels and bearings. And for both crusher types, " he went on, "TKIS has developed advanced on-line monitoring systems that help with troubleshooting, optimization and preventive maintenance."
Installation work in progress on an FLSmidth primary gyratory crusher.
Wear Material Developments
The ability of wear parts to function effectively is critical to crusher operations. How have developments in steel and wear materials over this period contributed to these advances?, E&MJ asked.
Krause: "Steel advances have allowed us to construct lighter crushers that have better durability."
Melgar: "Currently we offer two different types of alloy mixes that can prolong the lifetime of the liners depending on the ore's characteristics. For very abrasive ore, we also offer the use of a high-chrome alloy for the concave rows to give longer wear life."
Graney: "New alloys for wear parts continue to be developed, offering users many options. In addition, real-life monitoring tools can analyze the worn profiles to be fed back to designers to optimize the chamber design."
Drescher: "With operating costs increasingly important, liner lifetime is the focus of ongoing optimization. In addition to customized designs, various liner material qualities are available."
Improving Reliability
With reliability key to crusher operation, E&MJ asked the experts what the world's manufacturers are doing to improve this even further.
Share this article
Related Posts