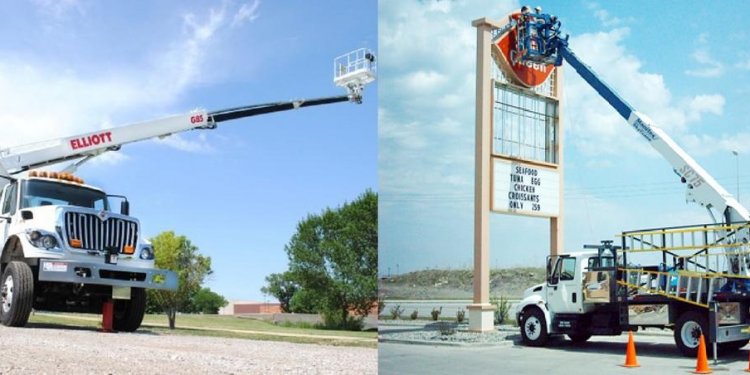 Sign Crane Trucks
My mother likes to tell a story of when I was just a little tyke of maybe four, sprawled out on the living room floor, thumbing intently through the yellow pages of the phone book. "Are you looking for something in particular?" she asked. "Crane trucks, " I replied matter-of-factly.
It's not surprising that a little boy born into the sign industry would have a special fondness for crane trucks, and I guess my inner child never quite got over it. Which would explain why when I visited Quiel Brothers Signs in San Bernardino, CA ten years ago and founder Ray Quiel's tour of the shop included a shiny red vintage crane truck over in the corner, my eyes lit up like that four-year-old boy from long ago. Imagine my delight when he suggested he might donate it to the museum some day.
Ten years later, during a recent Quiel family meeting, the idea of donating the truck came up again. That triggered the email I got from Ray's son, Gary:
"My company has a restored 1944 dodge truck with the hand-crank Garland crane… we would like to donate to the museum if you are interested. Please let me know."
What a surprise! What an offer! I immediately called him to confirm our "interest, " barely able to control my excitement. Good things really do come to those who wait.
The Quiels acquired the 1944 Dodge flatbed commercial truck in 1996, still sporting its original – though faded – paint, and slowly dying of old age. It had low mileage, though, and a good running engine, no rust, and no dents. According to Ray, "We disassembled every part, sand blasted, steam cleaned, painted and reassembled them using all stainless bolts, reupholstered the interior and refurbished the bed."
He found the manually-operated 40-foot Garland sign crane in a junk yard in Sacramento. They lovingly disassembled and restored it to its original condition and mounted it to the truck bed. The Quiels belong to the American Historical Truck Association and have brought the truck to both sign trade shows and Americana rallies like San Bernardino's Route 66 Rendezvous.
The truck has been in storage the past few years, though, and Gary said it was going to need a little work. We'll be getting back with him after the holidays to figure out the logistics of getting the truck to its new home. Wouldn't it be great if the museum could drive the truck back from California to Cincinnati across a "blue highway" such as Route 50? What a road trip that could be, stopping at sign shops along the way. Hmmm. Stay tuned . . .
About the Quiels: Ray Quiel's sign career dates back to 1944 – same as his vintage truck. He operated a GMC crane truck in 1947 while erecting signs in downtown San Bernardino. The current company has been doing business as Quiel Bros. since 1961. Ray still operates the company today along with his tree sons, Larry, Jerry, and Gary.
Share this article
Related Posts