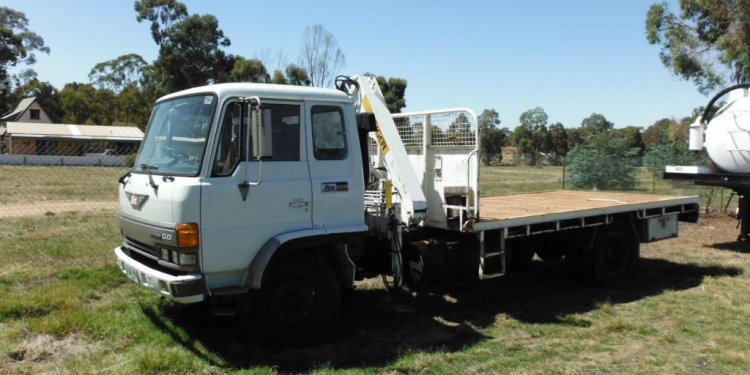 Hino Crane Truck
Excluded - additional costs may apply.
less than 1000km
Truck - Crane
Note: Brand New build-up now under way. Secure this truck with an option to purchase or lease to buy. Or just hire for your required contract term.
2012 Hino
Model: FY2945
KMS: 380, 000
Horsepower: 450 hp
GVM: 29, 000KG
GCM: 55, 000KG
Cab: White
Rego: GLU600
Built to the following specification:
Deck length: 6.5m clear space between head and tail boards.
Twist locks to suit 10 & 20 foot container spacing
Full height head board filled in to cab window height
Custom tail board to house Kitset truss racks
Set up with 40mm ring feeder.
Timber decking
Fitted out with four stabilizer pad holders and pads
Side marker light fitted.
Supplied with three toolboxes.
Dunnage rack.
Corner board holder.
Ladder rack
Over width alloy signs Front and rear.
2x Work lights mounted to under-side top of front head board
Cone holder
All required certification for the work outlined above
Complete front supplementary stabilizer legs.
Crane Options: Please inquire for a formal quote as these are two of the options currently available.
1-Brand New PM40527 Platinum.
PM TRONIC load management system with screen on remote and crane.
Work lamp mounted on crane
Hour meter
PLUS system to increase lift capacity
Continuous slewing
MCS allowing the operator to control the outriggers by remote
Hydraulic reach of 19.25m lifting 1220KG
Fully retracted at 4.55m it will lift 6880KG
2-Brand New PM36524
Double linkage crane
Radio Remote Control Advanced
Hour meter
Hydraulic reach of 12.45m lifting 2350KG
Fully retracted at 4.25m it will lift 7395KG
Photos shown on this advert are sample photos only. The truck advertised is currently under the first stages of its buildup. Please call Jeremy at Waimea Truck and Crane to discuss purchase or lease options to meet your lifting and transport requirements. See our contact details below.
Share this article
Related Posts