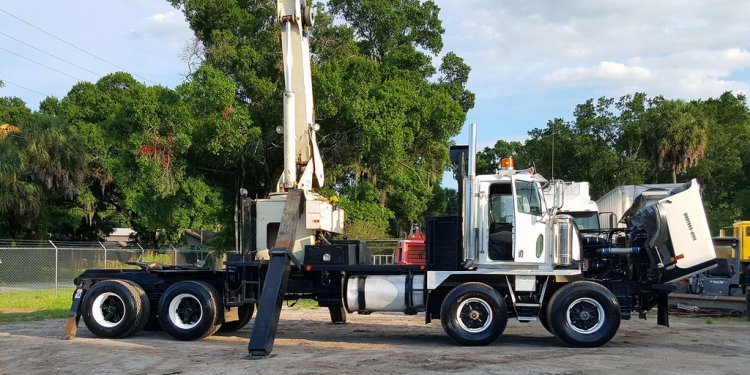 Terex Boom Trucks
Terex® offers a wide range of boom truck models built to service various industries and their individual applications. If gross weight is a concern, we offer several cranes that can be mounted on lighter, single-axle chassis, featuring a smaller foot-print, this configuration is optimal for the Arborist and Tree Care Industry who often need to operate on residential lawns and driveway's.
For a more versatile, higher capacity crane, the 23-28 Ton models feature a 4 section, full power boom up to 106' in length, perfect for the Roofing and Construction industry. Each of these models come standard on a tandem-axle truck, with a 60, 000 lb GVW.
The longer boom, conventional "behind the cab" (BT) mounting configuration leaves room for a 21' heavy-duty bed, which makes this configuration a favorite among the commercial sign industry, which has seen a large number of Sign Installers ditch the "fishing pole" sign-crane for a fully equipped, custom boom truck. Along with the 21' deck, lamp boxes, welders, and custom tool boxes can easily be outfitted behind the cab.
If long booms, and year round heavy picks are what you're after, the BT and RS (Rider Seat) 60100, and 70100 models are what you're looking for.
Offering capacities up 35 ton, and available features like heated and air conditioned enclosed cabs, auxiliary winches, and midspan outrigger charts.
Unlike most boom truck dealers, Giuffre Bros has the unique advantage of having over 50 years experience configuring and mounting boom trucks, so every one of our trucks have been custom configured by the manufacturer to fit our strict requirements.
Share this article
Related Posts