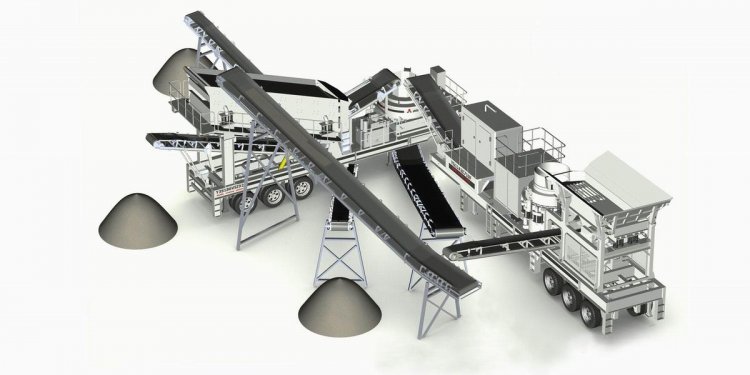 Portable Crushing Plants
Challenge 1: How to minimize cost and time used in transit?
The closer the crushing and screening plant is to construction sites, the lower the transit cost. We designed the Metso NW Rapid™ family of equipment for easy set up and dismantling, which means it can be moved quickly and cheaply from one site to the next. And the installation takes only 12 hours.
For international projects, a significant part of capital expenditure comes from equipment transportation overseas. Mobile crushing and screening units typically travel on Roll on Roll off vessels designed for wheeled cargo. We wanted to rethink that – and as a result, we came up with an innovative concept for the Metso NW Rapid™. It's the world's first and only wheel-mounted crushing plant that can be fitted into a standard shipping container and shipped for one third of the price.
Challenge 2: How to enable flexible multi-tasking and increase capacity?
We wanted to design a portable site to answer the needs of the most challenging crushing projects as well as keep even the smallest projects profitable. So we came up with a multi-tasker that could efficiently take on multiple aggregate production needs like portable jaw crushing or cone crushing but could also be fed by excavator, wheel loader or dump trucks. We also wanted it to be a solution for concrete and road construction aggregates, ballast and sub-bases as well as recycling applications.
The versatility of the Metso NW Rapid™ comes from its family of dedicated equipment, which can be applied in a variety of ways. For example, based on the feedback from our customers, the new formidable combination of the Metso NW106™ primary jaw crushing plant and the NW220GPD™ secondary cone crushing plant can produce up to 30% higher production. This capacity increase comes from replacing the GP11F™ with the new GP220™crusher, which has a higher-rated power and a larger four deck dual-slope screen.
We also found a way to combine the whole process with a one-touch user-friendly control system – the new Metso IC50C™ – which makes life much easier for operators and keeps downtime to a minimum.
Challenge 3: How to ensure constant availability?
But we know that for aggregates producers it's not just about the equipment, it's also about service. That's why we wanted the Metso NW Rapid™ to have the backing of Metso's global service support system as well as the benefits of our local presence, offering financing, maintenance and service, as well as spares and wear part contracts. Everything you need to keep the plant up and running but without runaway operating costs.
Challenge 4: How to improve safety?
We all have more important duties than crushing and screening – there's also safety to consider. We paid special attention to ensuring that the Metso NW Rapid™ conformed to EU health safety and environment standards. We also added safety features of our own like dedicated lifting tools for wear part change and well designed platforms for safe access to maintenance locations. The easiest way to prevent accidents is training and for this the Metso team is also at your service.
Share this article
Related Posts