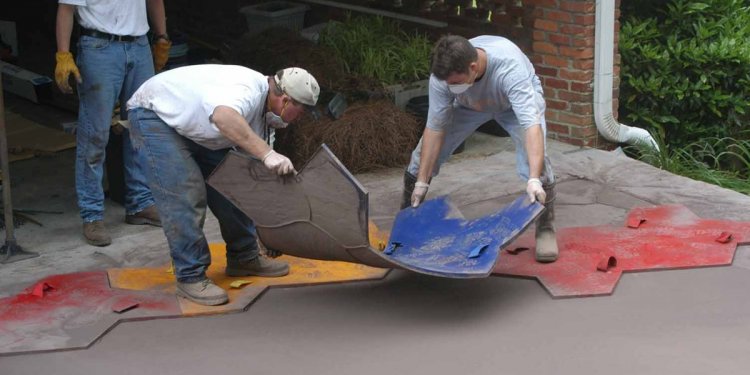 Concrete floor tools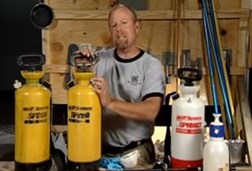 Stains and dyes can be applied in a variety of ways, depending on the results you want to achieve and the size of the job. Most of the tools you'll need are readily available at hardware and home improvement retailers or even artist supply shops.
Harris says that for most projects, the best way to apply a stain or dye is by using a pump-type airless sprayer or high-volume low-pressure (HVLP) sprayer. For detail work or small areas, you can also use a hand spray bottle, brushes in various sizes, sponges, and rags.
Pump Sprayer Video
Time: 05:37
Tips & techniques on selecting the right sprayer for each type of job.
HVLP Cup Gun Video
Time: 05:21
Proper function and use of the HVLP (high volume low pressure) cup gun tool.
If you plan to use a sprayer, Harris says that a conical tip - which sprays the liquid in a cone pattern as opposed to a fan spray - produces better results without leaving distinguishable spray patterns.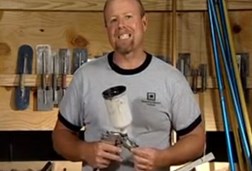 With chemical stains, it's sometimes necessary to gently scrub or massage the stain into the surface using a bristle brush of medium stiffness immediately after spray application.
Manufacturers warn that when working with chemical stains, you should only use sprayers, application tools, and containers that resist hydrochloric acid and have no metal components. All sprayer parts should be made of acid-resistant plastic. Brushes should have uncolored, acid-resistant nylon bristles (colored bristles can discolor the surface). And pails and containers for mixing or holding stain should be made of plastic.
Share this article
Related Posts