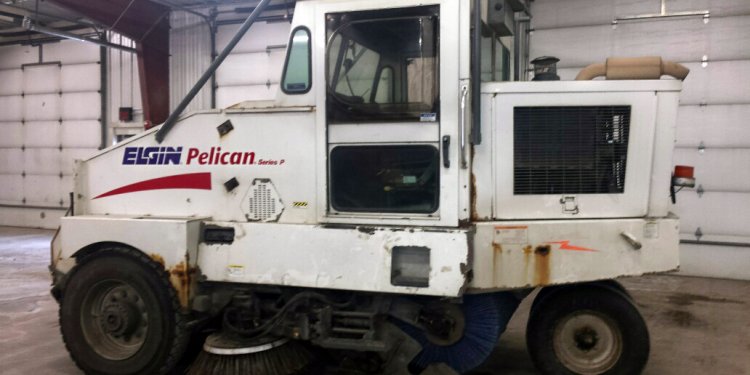 Pelican Street Sweepers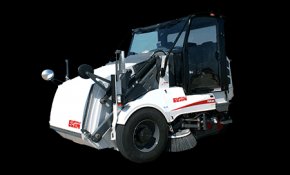 Elgin Pelican Three-Wheel Broom Sweeper
The Elgin Pelican broom sweeper is a three-wheel mechanical sweeper based on one of the original street sweeper designs, which has been continuously improved since 1914, meeting the highest sweeper standards. Maneuverability, economy, serviceability and single lane dumping with a sweep system that easily handles heavy compacted dirt and bulky debris are all features of the Elgin Pelican. An isolation-mounted cab provides a cleaner, quieter operation, and the improved 360-degree visibility and easier access for service and maintenance make the Elgin Pelican an industry standard in road sweepers.
The Pelican is now available as an optional alternative fuel sweeper: Compressed Natural Gas (CNG), Liquefied Petroleum Gas (LPG), and Liquefied Natural Gas (LNG). The Pelican also has a waterless dust control option.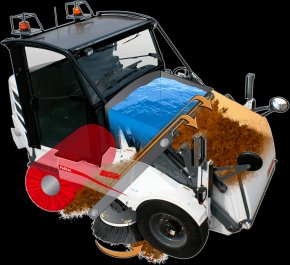 The Elgin Pelican is specially suited for applications that require extreme maneuverability due to congested areas, heavy debris such as that found in northern climate spring clean up, and bulky items up to 9" long. The waterless version of this street sweeper can do all this without the use of dust control water, allowing for year around operation and use on water reactive compounds like Portland cement.
SPECIFICATIONS
Auxiliary Engine: John Deere 4045TF (115hp)
Dumping Height Max: Variable up to 9 ft. 6 in. | 2895 mm
Sweeping System: Hydraulic
Dump Location: Front
Chassis: Elgin Exclusive
Sweeping Path Max: 10 ft. | 3048 mm
Turning Radius: 15 ft. | 4572 mm
Hopper Capacity: 3.6 cu. yd. | 2.8 m3
Travel Speed: 20 mph | 32 km / hr
Water Capacity: 220 gal | 832 Liters
PELICAN – Legendary, Dependable Performance
UNIQUE SINGLE-ENGINE THREE-WHEEL DESIGN
The durable purpose-built chassis features a compact frame to maximize maneuverability and position the load low and between front wheels for stability. The high steering angle and tight turning radius allow sweeping extremely close to obstacles and following curb lines.
POWERFUL BROOM SYSTEM
Hydraulically-driven free-floating side and main brooms work as a system to sweep material from the curb and street into the debris hopper. Side brooms protrude up to 13 in (330 mm) beyond the tire to capture more curb debris. The large main broom featuresvariable-speed and down-pressure to adapt to changing conditions and follow road contours.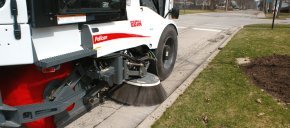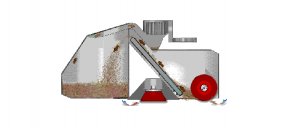 Share this article
Related Posts