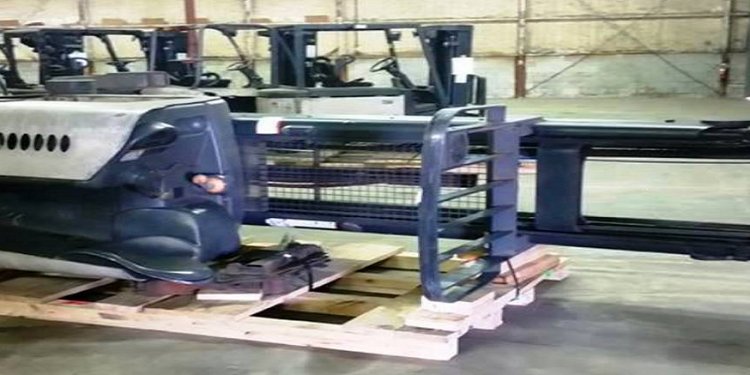 Forklifts of the Americas
NEW BREMEN, Ohio– Forklifts and material handling technology solutions from Crown Equipment Corporation are the best performing products on the market, according to a survey conducted by AGiLE Business Media, publisher of logistics and supply chain publications and . Participating readers of DC Velocity ranked Crown ahead of 10 other forklift manufacturers when asked to identify the best performing forklifts in these categories: electric counterbalance, reach truck, pallet truck, stacker, stockpicker/order picker and turret truck. Crown also earned the top spot in the two technology-related performance categories: fleet management systems and automation/semi-automation.
Respondents also provided a number of optional open-ended comments that highlighted the design, durability, ease of use and serviceability of Crown reach trucks. Some of these were:
"I've only used Crown and [competitor] reach trucks and the Crown was just more user friendly."

"No question. Best truck available."

"Overall durability and reliability. The performance and reliability of the truck stands out. Most of all, the truck is well built and the maintenance and parts manuals are easy to follow and interpret."
When asked to associate a forklift brand with specific attributes, respondents connected Crown – more than any of the other manufacturers listed – with design, ergonomics, fleet management/productivity tools, performance and safety. Crown also claimed top association with advanced technology, durability, energy efficiency, reliability and serviceability.
Respondents' consistent recognition of Crown in technology-related categories reflects the company's investment in leading the industry through the careful evaluation and implementation of advanced technologies. Crown announced last fall that its InfoLink® fleet management system is now available as a cloud-based solution for customers seeking ultimate deployment flexibility. Crown also published an educational white paper entitled, "The State of Forklift Automation: Are We There Yet?" that sought to assist logistics executives evaluating automation technologies.
Jim Mozer, senior vice president, Crown Equipment, said, "It is important that we're consistently measuring how Crown and other forklift companies are performing in the eyes of the most important evaluators: customers. This type of credible, third-party administered feedback helps us gauge our progress in many areas that often make or break the sales process. We're grateful to the respondents of this particular survey for their ratings, comments and insights."
This is the third consecutive year that readers of , which comprise corporate-level executives, as well as vice presidents, directors and managers of logistics operations, have indicated that Crown is North America's preeminent forklift and material handing brand. (Results for 2012 and 2011 can be found online at crown.com.)
Crown Equipment commissioned the AGiLE Business Media survey; however, respondents did not know Crown was the sponsor while completing the electronic questionnaire.
Share this article
Related Posts