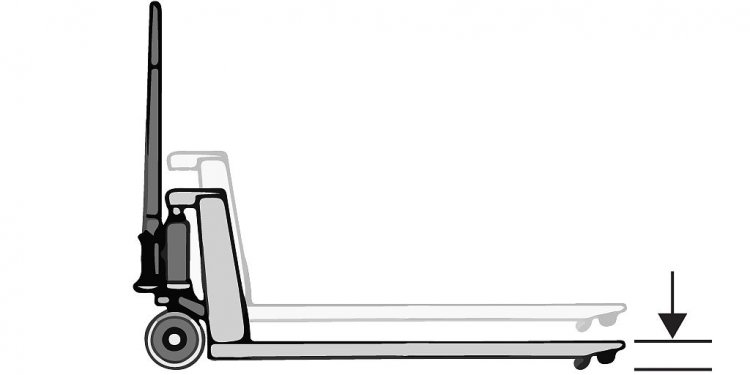 Pallet Jacks Trucks
Material handling equipment such as pallet jacks, lifts, hand trucks and carts are used daily in many hauling operations. However, when products and materials are being moved, there are numerous opportunities for personal injury and property damage if equipment isn't properly used or maintained. The following tips will help ensure you are handling loads correctly:
1. Take time to review the task
Before moving a load, review the task to determine what will be moved, how heavy the load is and where it's going. Ask yourself, "Can I handle this load alone? Is the item large and bulky or small and heavy? Will it block my vision? Ask a spotter to assist you if your vision is blocked. Check the condition of your material handling equipment. Inspect the cart, hand truck or pallet jack closely before each use. Look for cracks and other signs of possible defects or damage. Ensure the wheels are working properly and you have adequate tire pressure. Before operating a pallet truck, check the brakes, steering, controls, forks, hoists and warning devices. Report any problems to your supervisor.
2. Know your load
Trying to load your cart with small individual items or large unstable pieces can cause the load to fall off, resulting in an injury or huge mess. Use a container for smaller items and secure larger items by bundling them up before transporting. In addition, make sure the load is evenly distributed. A top-heavy load can tip over and hurt you or someone else. Use a two-wheel hand truck for light loads and a four-wheel truck for heavy loads. Always load the heaviest items first. When using a pallet jack, center the forks evenly under the load to maintain good balance and ensure stability. Make sure the forks are positioned completely under the pallet. Try to maintain a clearance of about 1 inch between the floor and the pallet. Always follow the load capacity of your equipment and never overload.
Pro tip: Never let a load get too big. Try to break down larger loads into smaller ones, as much as possible, so they are easier to handle. If a load is too big, you can't properly secure it. To reduce the risk of injury, OSHA recommends limiting the weight of loads so the necessary pushing force is less than 50 pounds.
3. Lift the right way
Serious back injuries can be the direct result of improper lifting techniques or lifting loads that are too heavy. According to OSHA, when employees transport materials around a worksite they are at risk of developing back injuries due to awkward postures and forceful exertion. Awkward postures include reaching behind the body, bending forward and to the side, and twisting when pushing or pulling materials can lead to muscle strain and back injuries. Improper functioning wheels and bumpy terrain can also make transporting goods more difficult, resulting in back and shoulder strain. Here are some things to remember:
The worker's head should be upright and not turned to either side more than about 30 degrees or tilted forward or backward more than about 15 degrees. When the worker is standing, the torso is not bent more than 10 to 20 degrees from the vertical position and the natural curves of the spine are maintained.
Transport devices should have appropriate handles that are large enough to fit the entire hand.
Do not stack materials higher that eye level.
Provide height-adjustable picking equipment so loads can be maintained at a height that minimizes bending at the waist.
Use hand trucks or carts with pneumatic wheels to transport material over bumpy, uneven terrain or stairs.
4. Use Personal Protective Equipment (PPE)
It's important to have all the vital tools and equipment to make each lifting or handling job both easy and safe. Here are the necessities:
Leather Gloves: Use leather gloves when working with large, heavy materials that have sharp or rough edges.
Back Belts: A back belt is helpful in supporting your lower back while using hand trucks, carts, and pallet jacks. Make sure you have the proper fit and that it is being worn on your lower back.
Protective Footwear: Transporting items in certain areas can put you at risk for foot injuries due to falling, rolling objects or pointed materials that can pierce the sole. You may also need special designs of footwear like non-skid soles and steel-toed boots when there are slip or trip hazards in your worksite.
Share this article
Related Posts