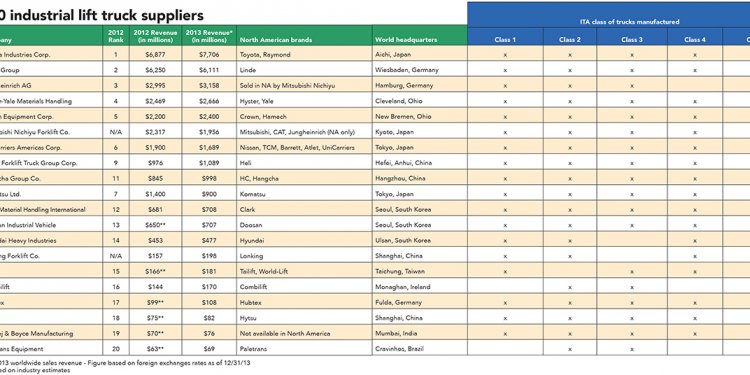 Forklift Truck manufacturers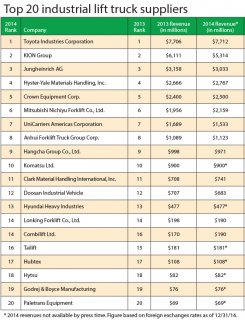 By Josh Bond, Contributing Editor ·
Don't let the numbers fool you: 2014 was a good year for the lift truck industry. The combined value of Modern's list of the Top 20 lift truck suppliers is down 3.5% this year, but nearly all reporting companies noted unfavorable currency conversions that in many cases turned gains into losses. In actuality, those companies often saw double-digit growth in unit sales. According to the 2014 World Industrial Truck Statistics (WITS) figures, global orders and shipments increased by almost 8%, a rate that has steadily grown in recent years from the low single digits. Read last year's Top 20 Lift Truck Suppliers ranking.
Brett Wood, chairman of the Industrial Truck Association (ITA) and president and CEO of Toyota Material Handling North America, says the global market continues to be relatively robust, with 1 million unit sales in 2014. "This is in part a reflection of the strength of certain economies, especially here in the United States, " he says. "Lift truck sales will always coincide with general economic trends, and it is encouraging to see the steady recovery since the recession period in 2009."
Wood also predicts increased consolidation, whether through acquisitions, mergers or partnerships. On the heels of this statement, Modern learned that Mitsubishi Heavy Industries and Mitsubishi Nichiyu Forklift have jointly acquired UniCarriers, which will result in the companies holding respective stakes in UniCarriers of 65% and 35%.
Following a series of big mergers in recent years (TCM/Nissan became UniCarriers, Mitsubishi Heavy Industries and Nippon Yusoki became Mitsubishi Nichiyu), this year's rankings remain relatively unchanged. However, lift truck manufacturers continue to broaden product offerings, and a series of acquisitions illustrate a desire to further expand capabilities. Examples include KION's acquisition of the handling automation division of Egemin Group and Hyster-Yale's acquisition of Nuvera, a fuel cell specialist.
There is more evidence suggesting a surge of innovation the lift truck space. In the ITA's "2014 Business Trends" survey, more than two thirds of members noted that fleet size in general is getting smaller—despite strong sales. The survey indicated the top drivers of fleet reduction include improved truck productivity, better usage of fleet data and warehouse automation.
Aside from the strength of the dollar, a lot could change in the next year. And although the numbers might suggest otherwise, the lift truck industry is flourishing even as it rapidly changes shape.
Click for Industrial lift truck suppliers - full version
The Top 10
Toyota Industries Corp. (TICO) is once again No. 1 on our list, reporting virtually identical revenues that belie a 14% increase in the company's materials handling segment and a reported 11.6% increase in unit sales.
In September of 2014, TICO, parent company of Toyota Material Handling USA, announced it had acquired the forklift business of 15th-place Tailift. Operating mainly in Taiwan and China, Tailift manufactures electric and internal combustion forklifts as well as industrial machine tools. Established in 1973, the company employs 1, 000 workers, and Tailift's forklift department has a production capacity of 28, 000 forklifts per year.
Second-place finisher KION Group reported revenues 13% below those of last year, creating a more than $2 billion gap between the list's leaders. In 2011, Toyota's annual revenues were 5% ahead of KION.
Citing growth in western Europe and China, KION reported early 2015 results, which showed Q1 revenues 7% above the same period in 2014 and order intake 13.4% higher than in Q4 2014.
"Our strong position in western Europe and China, combined with our successful multi-brand strategy, enabled us to maintain the momentum of our record 2014 results as we entered the first quarter of 2015, " said Gordon Riske, CEO of KION Group. "The marked rise in revenue and order intake reflects the strength of our position in the new truck and service businesses, in emerging and developed markets."
KION also highlighted its recent acquisition of the handling automation division of automation specialist Egemin Group. The division, to be named Egemin Automation, offers automated warehouse systems, automatic guided vehicles and in-floor chain conveyor solutions.
The rest of the top 10 held their rankings from last year, with No. 3 Jungheinrich reporting 9.1% year-on-year revenue growth in euro, which corresponds to a 4% decrease year-on-year in U.S. dollars. The company reported 15% growth in the number of units produced in 2014 and 9% growth in order intake.
A statement from 4th-place Hyster-Yale Materials Handling pointed to significant increases in "an unexpectedly strong North America market, partially offset by a decrease in European shipments, primarily in Eastern Europe." Hyster-Yale's operating company, NACCO Materials Handling Group (NMHG), also acquired Nuvera Fuel Cells in late 2014. Massachusetts-based Nuvera is focused on fuel cell stacks, related systems, on-site hydrogen production and dispensing systems.
According to a release, NMHG intends to commercialize Nuvera's research and technology through the rapid integration of fuel cell technology across large parts of the company's lift truck product range. It expects to be able to offer integrated, factory-fitted fuel-cell solutions, associated hydrogen generation and delivery capability, and aftermarket solutions designed to fit most electric-powered lift truck brands.
In sixth place, Mitsubishi Nichiyu grew 10%, which a statement from the company explained was a result of accounting changes. Some subsidiaries adjusted their fiscal calendar to match the parent company, which added three months of revenue for the first year of the calendar change adoption.
In its third year on our list, No. 7 UniCarriers (the result of a 2012 merger between Nissan Forklift and TCM) reported revenues of $1.53 billion, a 9% decrease from 2013.
Following unit-digit increases in revenues last year, No. 8 Anhui Forklift, the Chinese makers of Heli forklifts, reported revenues of $1.123 billion, a 3% increase. Ninth-place Hangcha Group also saw revenues hold steady at $971 million, a year after it grew by $150 million.
Rounding out the Top 10 for the second consecutive year is Komatsu. Although it was unable to confirm figures by press time, a company representative said 2014 revenues would be comparable to the $900 million it reported in 2013.
Notable performances since 2012
Factors such as currency conversion rates and restructurings can influence a comparison of revenues over the past few years. That said, in its six consecutive years at the top of our list, Toyota's revenues have grown by 68%, and 12% since 2012. Holding firm to second place over the same period, KION's 2014 revenues are 15% lower than in 2012, following strong performances in 2012 and 2013.
Tied for No. 14, Combilift has posted double-digit percentage increases for each of the last three years, growing 32% in that time. The company has effectively doubled revenues since 2009. The next highest growth rate over the past three years goes to No. 14 Lonking, which is up 21% since 2012. Lonking representatives report that the slightly lower 2014 revenues contradict a 19% year-over-year growth in revenues and a 22% increase in the number of units shipped, for a total of 22, 110.
Share this article
Related Posts